June. 2017 The China Trade Week in Kenya
---
From June 29 to July 1st, 2017, Zhejiang Sidite New Engergy Co.,Ldt participated in the China Trade Week ,which held in Nairoi,
Kenya. Although it's the first time that Sidite took part in exhibition in Kenya. However, the highly efficient products have attracted
many buyers from allvoer the world and got highly appreciated, customers reached an intention order. A continuous stream of visitors come to the booth.
The first day, we arrived in Nairobi, we met our customer in our hotel. He shows huge interesting in our solar products and very
generous asked his staffs help us install solar water heater. The days before the exhibition open, we had visit many clients in Kenya. They have confidence our products will have best selling in africa market.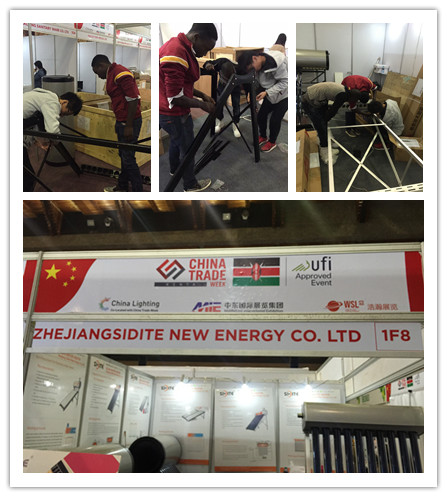 During the exhibition, we accepted the interview of local TV television. They were curious that why our booth could attract such many
visitors. We could them that our solar products are green, economic and safe. We wanted sell our products to all the world. we
helped customer to design a whole solution and provide the good quanlity,to choose Sidite is your right choice. Sidite grows up
together with her customers.