---
Non pressurized flat plate solar water heater
SN-FT
1.Elegant and smart appearance, easy installation.
2.Reliable electric back-up with protection against dry heating and thermal cut-out.
3.Easy operation and intelligent control.
4.Stainless steel inner tank SUS304 for good anti-corrosion.
5.With high quality flat solar collector with long service life.
6.Polyurethane insulation with good heat reservation.
7.Totally copper flow channels achieve low defect rate and easy maintenance, long service life.

Working principle:
Under normal operating conditions the potable water within the potable storage tank
is heated by the solar collectors. For example, in an close circuit system where the
household hot water is in the collector circuit, cold water is pushed downwards via the long external pipe from the storage tank to the bottom of the solar collector. As the water is heated in the absorber by the sun, it rises to the top of the collector then travels through the short external pipe into the storage tank.
Send Inquiry
Share to:
solar water
,
solar flat plate
,
non-pressurized water heater
,
Non pressurized solar water heater
,
Non-pressure Water Heater
,
Compact Non-pressurized Flat Plate Solar Water Heater
---
Description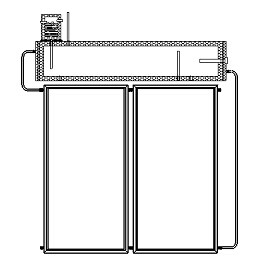 1.Non-pressurized water storage tank can supply water automatically,so that can keep the water tank always be filled.
2.it is suitable for the district that near the equator, and was specially designed for the low latitudes region.
3.all-glass vacuum tube, high temperature,vacuum insulation.
4.Food-grade stainless-steel SUS304 2B inner tank,full-automatic welding technology,under the protection of magnesium rod,it can prolong the service life.
5.High pressure polyurethane foaming insulation,as the prefect density and the thermal conductivity coefficient is small, so it can provide effective heat preservation
6.The outer tank adopt color steel plate,and it has good double anti-corrosion function
Specification and models

Full system parameter

 

quantity of the flat plate

1

1

2

1

1

2

mounting type

plane roof

plane roof

plane roof

Inclined roof (15°~30°)

Inclined roof(15°~30°)

water tank

 

net Volume of Storage Tank(L)

150

200

300

150

200

300

length of water tank(㎜)

1440

1540

2240

1440

1540

2240

length of inner tank(㎜)

1300

1400

2100

1300

1400

2100

diamater of inner/outer tank(㎜)

φ380/φ480

φ420/φ520

φ420/φ520

φ380/φ480

φ420/φ520

φ420/φ520

material and thickness of inner tank(㎜)

SUS304 /t4.1

SUS304 /t4.1

SUS304 /t4.1

SUS304 /t4.1

SUS304 /t4.1

SUS304 /t4.1

material of outer tank

color steel plate t0.45

color steel plate t0.45

color steel plate t0.45

color steel plate t0.45

color steel plate t0.45

color steel plate t0.45

material of insulation

polyurethane

polyurethane

polyurethane

polyurethane

polyurethane

polyurethane

pre-heated electrical heater connector

11/4″

11/4″

11/4″

11/4″

11/4″

11/4″

inlet connector

1/2″

1/2″

1/2″

1/2″

1/2″

1/2″

outlet connector

3/4″

3/4″

3/4″

3/4″

3/4″

3/4″

maximum pressure

0.03MPa

0.03MPa

0.03MPa

0.03MPa

0.03MPa

0.03MPa

maximum temperature

100℃

100℃

100℃

100℃

100℃

100℃

air vent

1/2″

1/2″

1/2″

1/2″

1/2″

1/2″

sensor connector

1/2″

1/2″

1/2″

1/2″

1/2″

1/2″

flat plate solar collector

 

outline dimension(㎜)

2000 x 1000 x 80

2000 x 1000 x 80

2000 x 1000 x 80

2000 x 1000 x 80

2000 x 1000 x 80

2000 x 1000 x 80

coating

black chrome

black chrome

black chrome

black chrome

black chrome

black chrome

dimension(㎡)

2.0

2.0

2.0×2

2.0

2.0

2.0×2

bracket

left/right bracket

material

color steel plate t1.2

color steel plate t1.2

color steel plate t1.2

color steel plate t1.2

color steel plate t1.2

color steel plate t1.2

degree①

15°~30°

15°~30°

15°~30°

0°

0°

0°

assistant tank

 

volume(L)

5

5

5

5

5

5

outerside diameter(㎜)

225

225

225

225

225

225

height(㎜)

280

280

280

280

280

280

air vent

1/2″

1/2″

1/2″

1/2″

1/2″

1/2″

water inlet

1/2″

1/2″

1/2″

1/2″

1/2″

1/2″

inlet

1/2″

1/2″

1/2″

1/2″

1/2″

1/2″

attachment

 

pipe sealing ring

silicon rubber /φ58

silicon rubber /φ58

silicon rubber /φ58

silicon rubber /φ58

silicon rubber /φ58

silicon rubber /φ58

pipe dustroof ring

silicon rubber /φ58

silicon rubber /φ58

silicon rubber /φ58

silicon rubber /φ58

silicon rubber /φ58

silicon rubber /φ58

connect pipe

standard

standard

standard

standard

standard

standard